Event Details
Join Critical Distance and Arizona State University's Center for Science and the Imagination for the launch of our new, free ebook, Sickness, Systems, Solidarity, which explores the tangled relationships between pandemics and games, both digital and analog.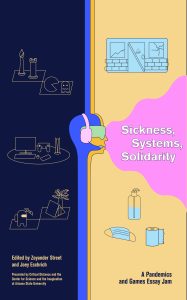 Sickness, Systems, Solidarity collects more than 30 short essays created as part of the Pandemics and Games Essay Jam, exploring topics ranging from the kinds of social connections games provided during the COVID-19 pandemic, representations of pandemics and other transmissible diseases in games, how the pandemic has catalyzed changes in the games industry, and how the trauma of COVID-19 has prompted us to revisit and reinterpret older games. The essays touch on games ranging from Silent Hill 4 and the Yakuza series to Hades and Hollow Knight, Rocket League and Dark Souls II, as well as jigsaw puzzles and card games…and of course, Animal Crossing: New Horizons.
The book launch will start with a conversation with Yussef Cole, a games critic, animator, and video artist, and the book's coeditors, Zoyander Street and Joey Eschrich. Most of the time will be dedicated to an inclusive group discussion and hangout with contributors to the book and anyone who wants to join!
This event is free and open to the public. To join us, visit the Critical Distance Discord server.
Note: If you're not currently a member of the server, please access it in advance of the event, as your request will need to be approved by a moderator.