It's that time of year again at Critical Distance. We are now open for suggestions from you, our readers, for the 2018 edition of This Year In Video Game Blogging!
As with every year, I scour through all of the TWIVGB features as my starting point, curating that massive amount of links into our short list. For more details, you can check our several times updated methodology.
TWIVGB may be pretty thorough, but the short of it is, our head curator cannot read it all. The internet is much too vast. This is your chance to correct the cases where we happened to miss something along the way. We want to hear from you about what you felt were the most representative pieces of the year. Send us the best examples of the discourse regarding the industry, the culture, an individual game title (from this year or the past), a certain argument or train of thought, and those unique voices making their stamp on the year.
This Year In Video Game Blogging is a collection of criticism that paints a picture of the year as a whole.
It's a daunting task. One that I only feel I can even attempt to surmount because I've done so many times before. It's not always perfect, but I feel they always come out better with the help of our intelligent and aware readership.
To submit your suggestions, send the URL using the submission form, emails, or Twitter. The deadline is Midnight EST, on December 25th. Thank you for your participation and I'll see you on the other side.
Submit here
Web formEmailTwitter
Send us as many emails as you like! They should look something like this: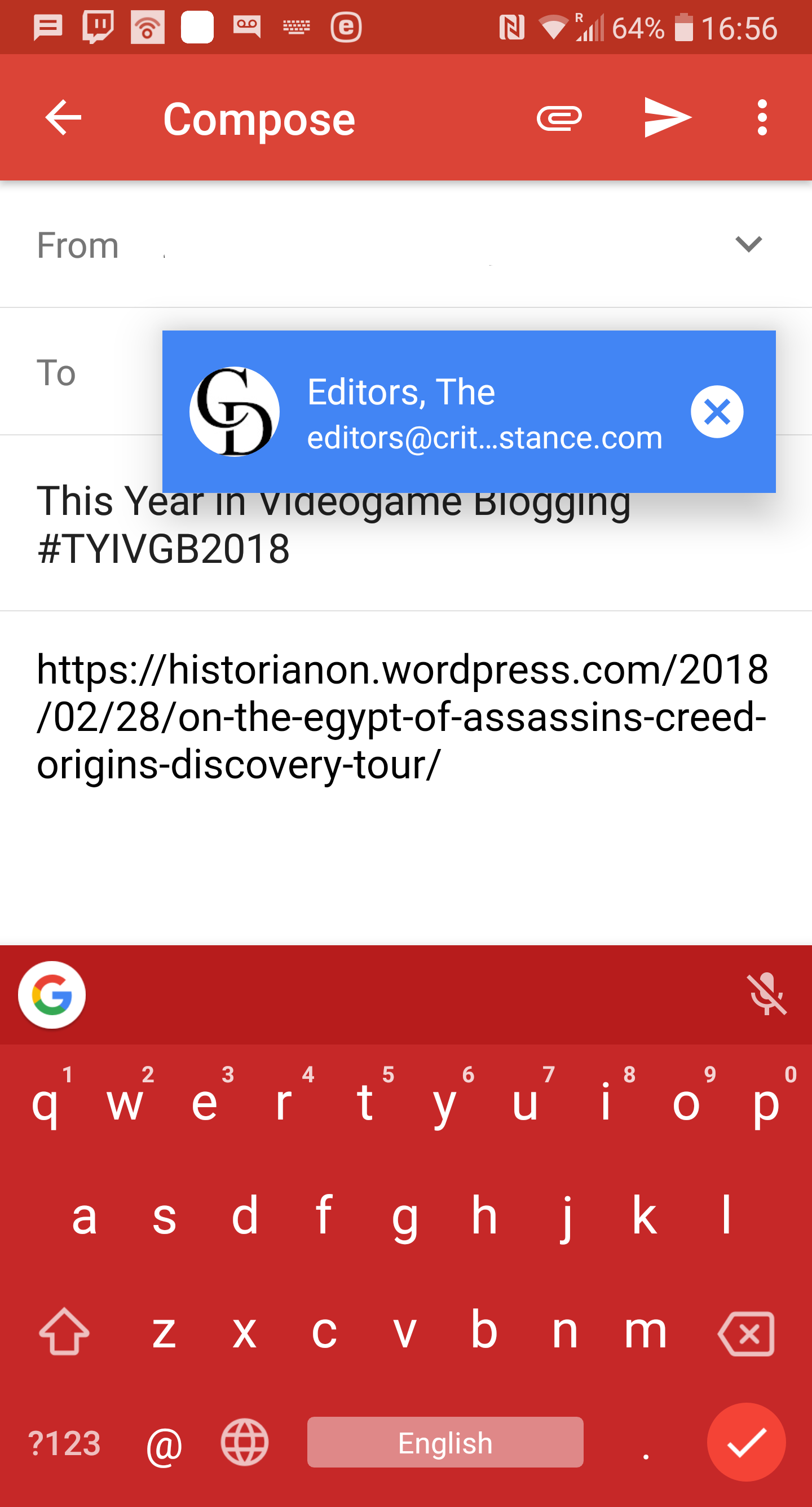 Address: See our contact page
Subject line: "This Year in Videogame Blogging #TYIVGB2018"
Content: Just the urls. Please use a new line for every new url. No need to send commentary, explanations, or background information.
Format: Plain text. No hypertext please, it makes formatting more difficult.
Submit in a Tweet
Send us a tweet with the hashtag #TYIVGB2018. Here's an example:
https://twitter.com/zoyander/status/1074818243318054912