Support Us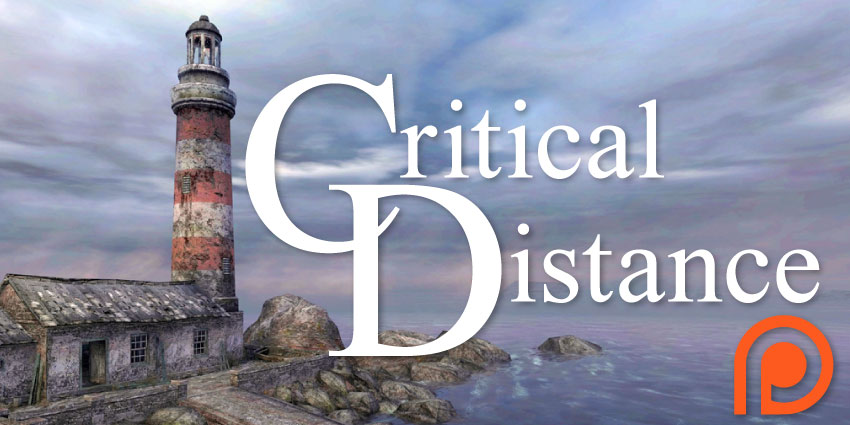 Critical Distance is supported exclusively through the kind patronage of readers like you. If you would like to help support Critical Distance, please visit our Patreon page and consider kicking in a small monthly donation. That would be really cool of you!
Not interested in recurring donations? We now support one-off donations via Paypal!
Critical Distance thanks all its current patrons!
Aaron, Åsmund K, Abe S, Adorable S, Akira T, Alex D J, Alexander O, Alun B, AM C, Andre B, Andrew D, Andrey K, Anthony A, Anthony P, Ben A, Bill C, Boogie, Brendan K, Brendan V, Brenna H, Brock W, Cargo, Carly S, Casey C, Cha H, Charles M, Christopher F, Colin B, Corey M, Cristian A, Csongor B, D S, Daniel, Daniel G, Daniel P, Daniel Z, D'Arcy, Davey W, David C, David Mc, David Mi, Davin P, Devin F, Devin W, Dillon, DimaZev, Drew R, Dude M, Eamon, Edmund, ehammar, Emily S, Fletcher C, Gabrielle de B, Gaines H, Gilles R, Grant W, Greg P, Greg S, Grenville W, Hamish L, Hanako K, Henk B, Henry P, Hugo S, Ian O, Iris B, Isaac S, J A, J Kyle P, James H, Janice M E, Jeff R, Jeff W, Jeremy S, Jerry C, Joannes T, jobias, Joe, Joe H, Joe K, Joe S, Joey D, Johannes K, John B, Jonathan W, Jorge, Josh, Juan R, juv3nal, Kate C, the other Kate C, Kathryn L, Katie C, Kevin V, Kevin W, Kimiko, Kylie J, Lucas, Lucas S, Maggie G, Margaret M, Mark F, Marla D, Marty M, Mary H, Matthew H, Matthew Mi, Matthew Mo, Melissa G, Michael C, Michael V, Midboss, Miguel S, Mysterious Benefactor, Oliver E, Oscar S, Peter H, Philip T, psepho, Quinn, Rachel B, Rainer S, Rasmus C, Raymond N, Reetesh Y, Rob M, Robert P, Robert R, Robot Parking, Rowan K, Sam D, Scott K, Sebastien L, Si G, Silverstring Media, Simon C, Stephen B, Switchbreak, Tanner H, Ted, Thene A, Tobias S, Travis, Tristan D, Victor V, Vlambeer, William, Wright J, Yussef C, Zachary
This list is updated monthly on the same weekend as newsletters are sent out to patrons. We do not give preferential treatment in our features based on patronage.